Joe Soucek Sr.
QUICKFACTS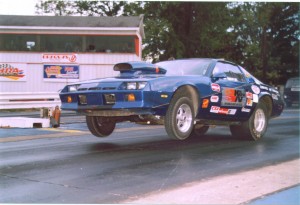 Class: IHRA Modified Eliminator / NHRA Pro
Car: 1982 Chevy Camaro
Best points finish: 2nd (2003)
Years Racing: 9
First victory: N/A
Career-best elapsed time: 9.76 seconds (Norwalk 2004)

Career-best speed: 135.76 (Norwalk 2004)
PERSONAL INFORMATION

Residence: Brimfield Ohio
Date of birth: April 02, 1949
Wife: Linda
Son: Joe Jr.
Hobbies: Mechanics, Carpentry, and Racing of Course
Occupation: Auto Mechanic
CAREER HIGHLIGHTS

2005: Runner up at Norwalk Raceway Park's Mid Season Race. Making it to the final 8 cars at the Night Under Fire.

Hi lady harper